Have a delicious barbeque with this new efficient balcony BBQ!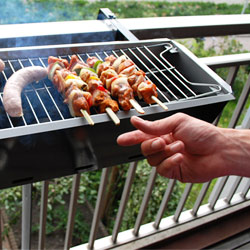 Are you used to going to the park to enjoy a barbeque? There is no need any more! After the success of the notebook BBQ we now laso offer balcony barbeque. No more lugging the burgers and kebabs, just relaxing on the balcony! It is ideal if you do not have a lot of space, live in a student house or do not have a garden. Moreover this BBQ hangs on the perfect height, so you do have to bend down to check that your meat hasn't burned. Balcony BBQ hangs on the inside of the balcony. Simple deisgn makes it really easy to maintain.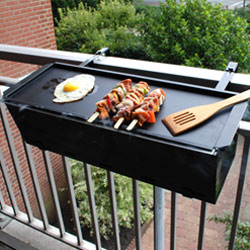 After using it, it is really easy to clean the grill. After many pleasant summer evenings, the BBQ is ready for its second purpose. In the winter it can stay on your balcony as a flower pot. With the dimensions of 60x23 centimeters, it offers a wide grilling survace. So even if you have guests, you can all enjoy a delicious barbeque. On top of the grill grate there is also a baking sheet included which can be used for frying eggs, onions and other vegetables. The balcony BBQ is easy to attach to any railing. Check out our other BBQ gadgets here.
Features Balcony BBQ:
Easy to attach to any railing
60cmx23cmx18cm
Now you can have a barbecue on your balcony
Can also be used as a flower pot
Weight: 5 kilos
Incl. Grill and griddle
Write Your Review