Decorate your garden, balcony or livingroom with these great solar powered flapping butterflies.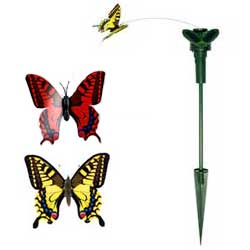 This beautiful flapping butterfly will stick in any plant pot and they move with the help of solar power. The butterfly is attached to a thin strip of metal which in turn is attached to solar powered motor. Using this system, the butterfly flies and flaps around in circles and will jazz up any plant. Our flapping solar butterfly is available in 4 colours: Orange, Yellow, Blue and Red. The wire thread is so thin that when the butterfly is flying around, its almost invisible, making it look like a real butterfly flying around your flowers or plant. The solar butterfly is rain proof, so even on a rainy day you can have buterflies flying around in your garden.
Because the Solar Butterfly works with a solar power and a battery, it can keep being reused for any plants you choose. In short, great for flowers inside and great on a grey rainy day to put some colour into your garden. Check out our video to see the Solar Butterfly in action! Or have a look at our other Solar Gadgets.
Features Solar Butterfly
Flapping Butterly
Works with solar power and batteries (2xAA niet included)
Available in 4 colours
Appropriate for inside and outside.
Write Your Review