USB Massage Ball: Spending the whole day in front of PC? It is time to relax…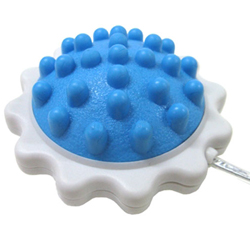 The USB Massage Ball is a cool computer gadget that gives a wonderful massage. The USB Massage Ball is small, compact and very handy to use. No one can do without computer nowadays and almost everybody is using it. A computer has become part of our lives. One downside is the annoying pain you get. This unbearable pain! How can you overcome it?
The USB Massage Ball offers a solution. This amazing computer gadget relieves you from the pain caused by sitting in front on the computer or laptop. So you "kill two birds with one stone" so to speak... Connect the USB cable to the computer/ laptop, turn it on by pressing a button and hold the Massage Ball against your schoulders, thighs, waist, neck, back or hand.
The dimensions of the USB Massge Ball are: 85x 43mm, it weights 147gram and has a vibration speed of 3600RPM and a USB cable cord that is 1.8 meters long!
Features USN Massage Ball:
Operates via USB cabel
Has ON and OFF switch
USB cable cord of 1.8 meters
3600RPM vibration speed
Great gadget to give or recieve!
Write Your Review