Everyone knows that reusing water bottles can only be continued for a certain time if you don't want plastic poisoning! Ofcourse, everyone knows that what comes with renewing them every few weeks, is throwing the old ones away. Not everyone recycles, so we can assume that this can't be very good for our environment. But for everyone that wants to keep our beautiful planet clean and free of pollution, that is a thing of the past: thanks to these fantastic bobble water bottles!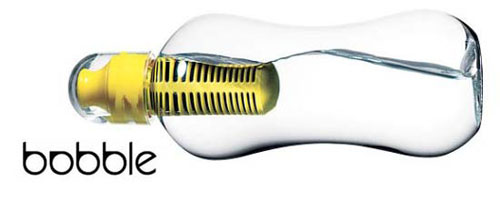 The bobble is a beautifully designed environmentally friendly reusable water bottle that is designed by the industrial designer Karim Rashid. The thing that makes the bobble bottle so special is that it has a built in carbon filter that filters your water as you drink. This ensures that you'll be drinking mineral water at all times, out of the tap! Now everywhere you go you can drink clear, filtered water with a pure taste. Because the filter can take up to 150 litres of tap water (about 300 bobble bottles) and filter the Calcium, Chlorine, Fluoride and organic bacteria our of your water, it's handy and at the same time environmentally friendly ofcourse. Good for our planet, and for your wallet! Fashionable and enviromentally friendly have never looked so good together in one product.
If you've drank your 300 bottles of water, or you simply want a different colour everyday? Well, that's not a problem, we have replacement filters here for sale.
Features Bobble:


Bobble water bottle


Modern design


Available in 6 colours


Can filter up to 150 litres of water


Replaceable filter


Recyclable bottle- 550 ml


EASY ORDER
€ 4,95 shipping costs. Free shipping for orders above € 50

Order before 20.00, delivered the next day.

Personal customer service: +31(0)-70 311 05 25

Gift wrapping and personal message service.

Store in The Hague

Secure payment