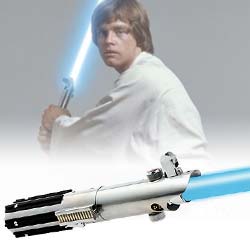 May the force be with you! Or better yet, get your hands on one our awesome lightsabers and take your enemy out in true Jedi style. With the new Force FX Lightsaber by Hasbro you'll battle to the death like never before. Show your true colours with the true Jedi blue like Luke or Anakin Skywalker, or take your side with a red lightsaber and kick ass Darth Vader style. No need to worry about breaking and entering or trespassers, cause no one will cross you again once you show your skills with these deadly realistic lightsabers; they have light and sound effects when turning on, off and many more. All of which are true digital recordings from the Epic Star Wars movies.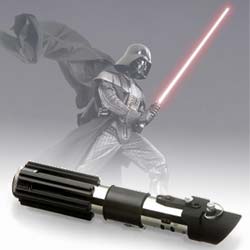 There are special sound effects for power up, power down, clash and ofcourse the hum of inactivity as you muster the courage to make a move. The 5 motion sensors make sure that your sound effects come with perfect timing, making your battle as realistic as possible. The light comes from 64 built in LED lights. The metal handle feels like a exclusive original lighsaber so if you want to feel the power, heres your chance. The lightsabers come in a normal and deluxe edition. The deluxe edition has a removable handle, making it possible to attach the beautifully detailed handle to your trousers or belt. Also included is a fantastic Star Wars stand to keep your lightsaber on display in times of peace.
Ofcourse, your lightsaber should always be kept at hand so that you can defend yourself with the click of a button and a power up zoom! So, for any and all Star Wars fanatics that only want the best, this is the lightsaber for you! The Darth Vader lightsaber comes in normal and deluxe edition. Luke Skywalkers lightsaber quite fittingly is only available in deluxe edition. Anakin's lightsaber is only available in the normal edition. Use the force! Or just use your fantastic official replica Lightsaber!
Features Star Wars Lightsabers:


Hasbro Darth Vader Force FX Lightsaber Collectible ( Normal & Deluxe)


Hasbro Luke Skywalker Force FX Lightsaber Collectible Deluxe


Hasbro Anakin Skywalker Force FX Lightsaber Collectible Normaal


Official replica of Darth Vaders lightsaber from the film Star Wars: The Empire Strikes Back


Official replica of Luke Skywalkers lightsaber from the film Star Wars: A New Hope


Official replica OF Anakin Skywalker Lightsaber from the film Star Wars: Revenge of the Sith


Removable handle or attached iron handle


Removable with clip for your trousers or belt


Authentic sound effects from the movie


5 motion sensors for sounds at the right moment


Included: Decorative Stand


Different colour effects


Measurements: 112.5 cm x 5.3 cm x 5.6 cm


3x AA batteries (not included)



EASY ORDER
€ 4,95 shipping costs. Free shipping for orders above € 50

Order before 20.00, delivered the next day.

Personal customer service: +31(0)-70 311 05 25

Gift wrapping and personal message service.

Store in The Hague

Secure payment