Knight Rider RC K.I.T.T. Perfect replica of KITT. For the true Knight Rider fans (excluding David Hasselhoff).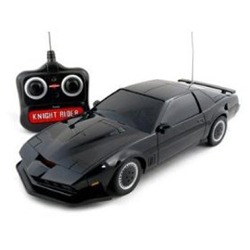 When you press the cap KITT will speak to you, the famous red lights will turn on in the grill! This is the brand new 1:15 scale RC version of the popular car of the iconic TV series Knight Rider.This sleek, customized Pontiac Trans-Am was impervious to the attack, and was cruising at 480 kmp and was loaded with hi-tech weaponry. And now, thanks to your friends at Megagadgets, you can own a fully functional RC version of one of the biggest TV drive vehicles.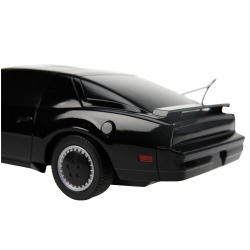 The Knight Rider R / C Car does not have a molecular bonded shell and can not leap through the air, but still forward, backward, left and right, and has a 'turbo boost' function. The Knight Rider has that familiar whooshing sound and a working red sensor on the hood. Best of all, this is a tribute to the '80s with a legend and press the cap and KITT will say: "I am KITT, Whom You May Regard as the voice of the Knight 2000''.
After the success of the new Knight Rider series, there's never a better time for a total Hasselhoff for yourself. Whether you're a fan of the show or if you just love to have anything to do with the 'Hoff' (and who does not?), Buying a Knight Rider R / C Car is your civic duty. After all, how can you protect the innocent, the helpless and the powerless in a world of criminals who place themselves above the law? Exactly!
Features RC Knight Rider:


Dimensions: 12 x 9 x 33 cm
Scale: 1:15
Speed: about 15 km / h
Remote control: 40 MHz 9V battery (INCLUDED)
Range: approx 40 meters
Full freedom of movement (including power boost)
Red sensor with varying speeds and "Cyclone" sound.
Includes speech: "I am KITT, Whom You May Regard as the voice of the Knight 2000.
Not suitable for children under 3 years
Write Your Review