Rainbow Candles: Light up your room without using a single flame!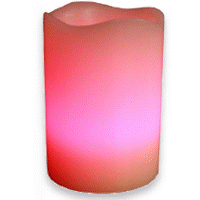 The Rainbow Candles are the easiest and most fun to use candles you have ever seen. You can use these electric candles as mood lightning on those dark evenings without having to worry about lighting your house on fire, because the Rainbow Candles don't give of any heat. With these candles you don't have to worry about the wax dripping on your furniture. But the facts that Rainbow candles does not give of heat or drips wax aren't even the best things about the candle. You can control these candles while sitting on the cough using a remote control. Without standing up you can turn the candles on, off, make them brighter or dim the light.
Rainbow Candles are available in two different types. The first type is the Rainbow Candle Original, this candle looks like a regular normal candle, you get three of these candles in different sizes. The second type is the Rainbow Candle Multicolor, this candle is able to change color automatically or when you want to, these come per two. This function can be controlled with the remote as well. The candles will automatically turn of after 8 hours. This way the candles won't burn all night when you fall asleep. The originals work on 2 and the multi colors on 3 AAA batteries.
Features 3x Rainbow Candles:
Remote controller
Timer for 4 or 8 hours
Orginal: neutral, realistic light
Measurements: diameter 3cm x 5cm
batteries: 2 x AAA (excl.)
Multi color: 12 different colors
Measurements: diameter 3,5cm x 5cm- batteries: 3 x AAA (excl.)
Send by one.!
Write Your Review