Get the corn poppin' at parties and movie nights with our new Popcorn Machine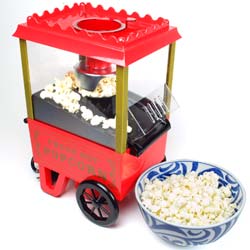 Have you had enough of ready made popcorn? High prices and low taste quality... That could be a thing of the past with our Popcorn Machine. If you're one of those people who has always wanted to make their own popcorn, then this is the gadget for you! With this popcorn maker you can have fresh made popcorn any time the occasion arises: imagine warm delicious popcorn on your movie night, or freshly popped snacks at your next party. In the popcorn maker there is a measuring cup to make sure you know exactly how many pop corns you need. All you have to do is throw it in and wait, and in no time warm freshly popped corn will be flowing out of the machine into your bowl, and not even a drop of oil needed!

Nothing tastes like fresh and home made popcorn, you'll feel like you're in the movie theatre, and it only takes a few minutes. And ofcourse, you can add your own personal touch to your popcorn by adding salt, butter or syrup to taste. Not only is this popcorn machine super handy and easy to use, it also looks great, making anyone who looks at it nostalgic and turning your house into a old fashioned theatre.
Features Popcorn machine
Make your own fresh popcron!
Give your own house the feel of a movie theatre
Easy to make your popcorn with a personal twist
Electric
Works without oil
Write Your Review