This LED Umbrella will light up those dark days and nights. With LED lights in the central pole and handle for better vision at night.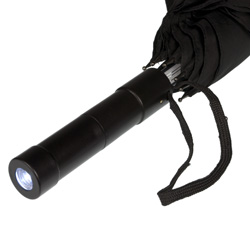 Are you scared of the dark? No worries! If it's something for in the rain that you need, MegaGadgets has got your back. This is our newest umbrella which will help you navigate your way through the night. No one will be able to miss you with this LED Umbrella with a LED light shining all the way through the centre to the very tip. Just turn your umbrella on and white light will shine up your path through the dark and rain. Walking the dog? No need to get wet or stand in anything by accident because this handy gadget will keep you dry and safe from unexpected surprises!
Walking in the rain can only get better, but its the best of all with our LED Umbrella which looks cool and works great. It's design isn't only original and fun, it's also safe for those walking in the dark, making sure bikes/cars/bystanders can't miss you.
Features Umbrella:
Lit up central pole
3 different modes: Constant, and 2 flickering modes: Fast and Slow.
LED light in the handle
Colour: Zwart
Colour of light: White
Works on 3 AAA batteries.
Safe and original
Write Your Review