Transform your iPhone into a stylish landline phone with the new iVori!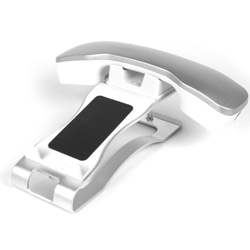 Megagadgets is proud to present the newest gadget in our wide range of iPhone accessories; the iVori. Just lay your iPhone snugly into the stylish stand, and immediately you've got yourself an amazing new landline phone. The perfect iPhone gadget to show off at home or in the office.
The iVori is a user friendly, plug and play gadget that makes sure you can get full use of your iPhone, even mid-call. Never again will it be neccessary to fumble around and accidentally hang up while searching for a number, and the fun doesn't stop there! While stuck in one of those calls that never seems to end, while away your time updating your agenda or even playing a game. No more frantic searches for where that ring is coming from; give your iPhone it's own special place at home and you're call is always within reach.
With the help of Apps, you can customize your display with easy to use digital dial keys, or a old fashioned rotary dial which completes the look of your IvorI in your own style.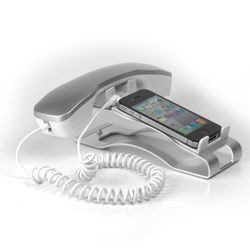 Bascially, the iVori helps you get everything you want from an iPhone, while you also have all the perks of a landline telephone. Handy for those who aren't so technically forward, and also those who don't mind a bit of a blast from the past every so often. Never worry about misplacing your smartphone again, and make sure that you keep both feet on the ground, or in this case your phone on the desk, with this awesome retro style gadget. Look to the future, but keep a hold on the past, get your IvorI now and be wowed by its simplicity, and style.
Features Smartphone stand
Suitable for all phones equipped with a mini jack
Mini jack handset
Simple and stylish
Perfect for in the office
Write Your Review