The first healthy app for your iPhone! The LiveRider bike computer, your condition will be closely monitored!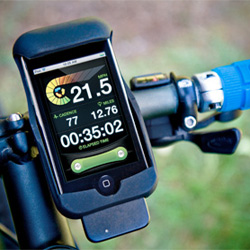 We cycle all together a few kilometers per day. Everyone knows it's healty and good for your condition, but we never really kwow how hard we cycle or how many calories we burn. With the LiveRider everything will be databased accuratly and can do so much more. For example, your speed, calories and all other information will be measured through a 2,4 GHz wireless transmitter. The reciever is handled in the case that you can place on the handlebars and can be put into the dock connector of the Iphone.
The LiveRider contains a file to get the details of each ride that can be evaluated graphically or exported via e-mail and can be entered in a spreadsheet, document or database. Do you take the some route to work everyday?, then the LiveRider offers you something extra: You can use the Chase Rider-modus everyday to try to improve your record. Now you can finally measure how many calories you have taken in and how much calories you (still) have burn!

The first professional wireless bike computer and mounting systeem for the iPhone and iPodTouch. A shock resistant iPhone holder, a wireless sensor and an acompany app to recordyou cycling data. The wireless bike computer communicates with magnetic sensor on the rear of the wheel.
Features LiveRider Bicycle computer: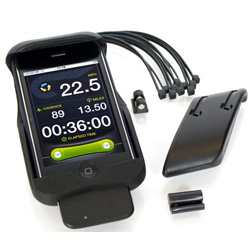 For iPhone, 3G, 4, iPpod Touch
Free live rider App- No batteries needed
Magnetic cadence and wheel speed sensors
Memory configuration for multiple bikes and their custom installation
Each session will be recorded
Waterproof and Shock resistant (not for iPhone itself)
Universal 2.4 GHz sensor transmitter
Write Your Review