Megagadgets and Fujifilm bring you the Instax mini 7s camera; retro technology with an up to date twist. A great design and an even better price. Perfect for any occasion!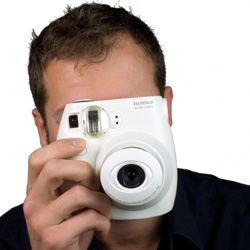 Smile! The Polaroid is back. Megagadgets brings you the instax mini 7S camera by Fujifilm; an instant camera with the same concept in a whole new design, for a great price.

Take a step out of the digital generation for a moment, to snap a photo of those picture perfect moments that you just need to capture. No need for a photo printer, memory card or computer; your instantaneous photos are yours to keep, immediately! The credit card sized photos are just right for keeping in your wallet or card holder, perfect for the nostalgic among us.
These days you'd think smartphones and digital cameras can do everything, but they certainly can't do this! One press of a button and almost instananeously a hardcopy in your hand, perfect to look back on all those precious moments at your own hearts content, no need to be computer savvy, this camera does it all for you.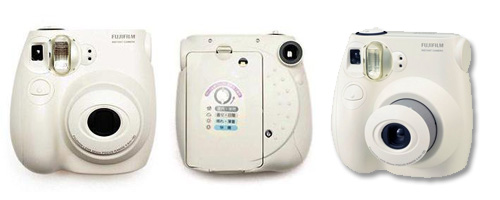 The Fujifilm instax 7s Camera gives you high quality photos whether you're inside or out, good weather or bad with a built in flash, which loads within no time and various exposure settings that give you the perfect photo. The film is widely available at photo specialists, and ofcourse right here through us. So no need for fuzzy cellphone photos or harddrives full of impersonal files. Go retro and take your photos with your new Fujifilm polaroid camera.
Features:
Polaroid camera
Instantly printed photos
4 Exposure modes: indoor/dark, cloudy, fine, clear
Brand: Fujifilm
Built-in automatic flash
Incl. strap- ISO: 800- Photosize: 4,6 x 6,1cm
Film size: 5,4 x 8,6cm creditcardformat
Film: FUJIFILM Instant Color Film " instax mini" excl.
Works with 4 AA batterijen incl.- Lens: Fujinon lens, f=60mm, 1:12.7, 2 componenten 2 element
Focus: 0.6m ~- Flash: 0.2 - 6 second loading time, range 0.6 - 2.7m
Dimensions: 12.7 x 12.7 x 6.4 cm
Write Your Review