The Cash Stash is a handy, waterproof canister to keep your money! Hang this gadget on your keychain and you will always have money at hand.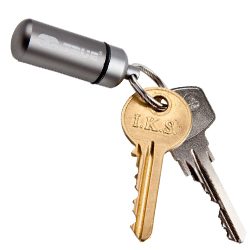 The new handy gadget from True Utility. With the cash stash you will always have money in your pocket. You can hang this fun canister on your keychain and& it is even smaller than your ;house key. A "cash clip" is attached to the canister where you can roll up money, bills and save it for those times when you urgently need money. The cash stash is waterproof and can take a beating! The Cash Stash is made from super strong alloy and is sealed with a rubbe washer. Moreover, the cash stash is so small and inconspicuous that nobody expects that you can save your money in it.
This gadget is ideal for a day at the beach or on the terrace. You will always have money on your keychain and you can just let it lie on the table. Or how about in other cases where you've forgotten your wallet. You can hang the Cash Stash on your carkeys so you will always have money for gas. Or how about a critical cab ride after a nigh out! In short, the cash stash is more useful than you think! Available in three colors:silver, black and pink.
Features Cash stash:
Waterproof Money tube
Keychain
Length: 45mm
Width: 15mm
Aluminum
Space for money bills
Available in three colors: Pink, Black and Silver
Write Your Review