The only radio controlled car that runs not on batteries, but on sunlight! Instructive, but tough!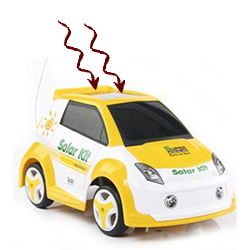 No batteries or electrical outlets are required, so from now on you just have to go outside (and have a little bit of patience). The included remote does not require batteries either - simply recharge it by sticking in the back of the car, so it also uses energy from the sun. So if you want not only a fun toy, but also have a 'green' way to use it than Ecomobile is perfect for you! Also very suitable for children – it is a fun way to introduce the operation of solar energy and the importance of sustainable fuels!
The Ecomobile Solar Car is a remote controlled car that is completely dependent on solar energy! This fun R / C car is absolutely from our time! Especially in the real world of automotive technology 'green' technology and renewable fuels are increasingly being looked at. Solar energy is obviously one of the most important developments. Through the solar cells on the roof of the car, sunlight is converted into energy!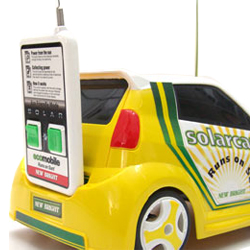 Features Solar car:
R/C car
Driving on solar energy
Environmentally friendly
No batteries needed
Educational
Charging via son & USB
5 tot 20 min playing time after being charged for 30 mins to 2 hours
Write Your Review