Bring the Fair to your house and have the perfect party with your own Candy Floss machine!
Here at Megagadgets we love candy, so here is our latest addition: The Candy Floss machine! The fair doesn't come that often, but if you have this at home, you'll never have to look forward to it! Everyone knows and loves the Candy Floss they make at the fair; they are always a lot bigger, then good for you, but at the same time, so delicious you can't stop eating them! Now you can make it yourself, and it's very easy! The Candy Floss Machine can be used with normal sugar and is very easy to use and clean. Off course you can add a flavour or a colour to make it even more fun!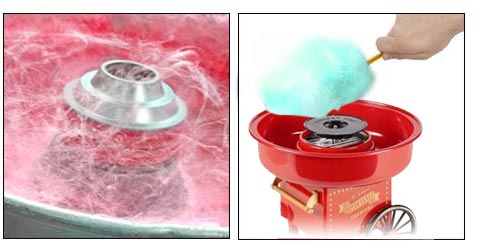 The Candy Floss Machine will make any party tons more fun, and with just a bit of practice, you can become the Candy Floss Fair King. All your friends will have to queue up for the next Candy Floss! After you're done making those delicious Candy flosses, clean it with warm water and soap. The machine looks great and won't end up at the back of some cupboard, but on display in your room! The Candy Floss Machine is delivered with an adapter, so you won't have to worry about buying batteries. Buy it now, and have a party every day of the week!
Features Candy Floss Machine:
Candy Floss Machine
Bring the Fair to your home
Easy to clean
Operates with normal sugar and sugar with a flavour and colour
Operates on a 12V plug
Measurements: L 20 x W 20 x H 30 cm
Write Your Review