Defend your desk or work area with this cool pencil and catapult in one!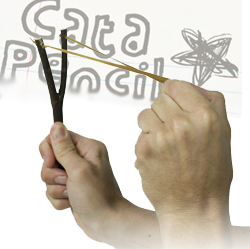 It's all in the name; The Cata Pencil is a pencil, but its also a catapult. This 2-in-1 pencil is made out of an actual forked branch with an elastic with a leather holder attached to it, also known as the slingshot. Because the Cata Pencil is truly made of a real branch, every one is unique! The elastic is easy to replace should it ever break. The pencil itself is comparable to HB hardness, so not only is it a great gadget, it's also just simply a great pencil to use for anything you might need it for, and will last long.
If you need some distraction at work, or are a skillfull procrastinator already, this is the perfect gadget for you. Fantastic as a present or a treat for yourself, your own unique catapencil!
Features Catapult Pencil:
Incl. with elastic band slingshot
Approx. Dimensions: 20 cm x 3,5 cm x 1 cm
Made of all natural wood
Every Catapencil is unique
Avoid shooting near face or eyes
Not for small children
Write Your Review