Bar games makes drinking more fun. It has 30 different drinking games, cocktail recipes, fun assignments and quizzes.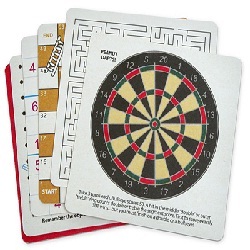 Invite all your friends for a nice cool beer or cocktail evening and surprise yourself with these unique coasters. With these coasters your nights will never be the same. Use them at home or take them to the pub ! The coasters can be used in the pub to enjoy and act crazy with friends, order a cocktail for a nice lady or to do an exciting game or quiz games.
This unique coaster is always laughter. The games, assignments, quizzes, tricks and cocktails on this unique coasters are all different and specially designed to make drinking even more cozy. So you have darts, sudoku, a checkerboard, blindness test, drinking games, memory games, spot the differences, cocktail recipes with pictures and much more. It is never dull if you take this with you.
Features Bar games:
Set of 30 coasters
For at home or at the pub
Dimensions: L 9,4 x B 9,4 x D 3,7 cm
Material: 100% recycled Paper
Write Your Review