The Android Radio is an awesome radio with a cool Android design. Great speaker for a fantastic sound for your very own music.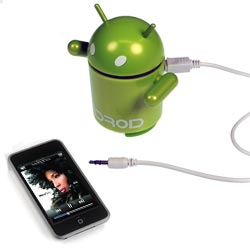 The Android speakerradio is one of our newest must haves at MegaGadgets. The unbelievably cute and cool design, and great sound that comes out of this radio gives you the best possible experience listening to music. But the Android radio doesn't just stop at that, it's also a portable mini speaker that can be hooked up to your iPhone, iPod or MP3 player easily. With the Android speakers head, you can easily change the channel and switch between portable music or standard radio. The Android Speakers arms also move, making sure that with your music there is also an awesome show. Great for parties!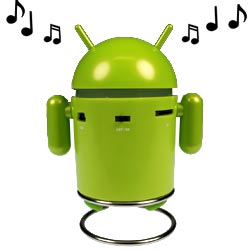 This great gadget is handy for on the go, or when you're of ear phones but still feel like grooving to some music or watching a movie. Even at home, the Android Radio is a pleasure on the ears and for the eyes. On its included stand, the Android speaker has its optimal sound quality, also making it easier to plug into your computer or laptop. It's always great to have a radio on your desk, but this radio looks great too! It's fun and functional, making it a great accessory for anyone who likes music. Perfect as a gift for any Apple fan, and ofcourse for yourself. Easy to charge via USB and gives you music pleasure for hours.
Kenmerken Android Radio:
USB plug/ Mini jack/ TF card
Charges via USB
Measurements: 8 cm x 7 cm x 5.5 cm
Available in Green, Pink, Black and Brown.
Write Your Review